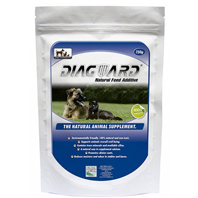 Food diatomaceous earth in 750 g
Anti-parasitic with multiple uses: External, internal, and environmental. 100% food and natural, with an exceptional silica content of 94% for a formidable efficiency!

External pest control on all your pets: dogs, cats, ferrets, horses, birds ...


Apply gently to the hair, in a well-ventilated area, avoiding the head of the animal: diatomaceous earth is very irritating to the lungs and eyes, be careful to gently apply it so that it does not fly everywhere . Diatomaceous earth is active against fleas, lice, ticks, chiggers ...



- Pest control for the environment: apply out of the presence of animals in baskets, carpets, corners, henhouse, cage etc ... In addition to pest control, diatomaceous earth also fights against odors and moisture . You can put back the animals when there is no more dust suspended in the air.

- Internal pest control: Helps eliminate most intestinal parasites. to mix in a wet meal:
Dog: a pod of 5mL (1 teaspoon) for 10kg, per day
Cat: a pod of 2.5mL per day
Ferret: a pod of 1mL per day
Pony: 50g per day
Horse: 100g per day

Duration of the cure: 10/12 days in "prevention"
30 days if worms are present
For a heavy infestation seek the advice of a veterinarian.