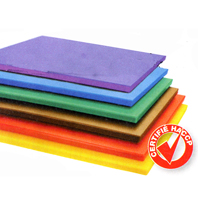 Professional cutting board 53 x 32.5 x 2 cm
SUPER PRICE for this Large format professional cutting board, various colors on order, white, blue, green, yellow, red, brown, purple, black.




A big stable board thanks to its thickness, for your cuts of meat and vegetables, that changes will facilitate your life!

The different colors are used in catering to cut food according to color codes, vegetables on the green for example, and meat on red.

For a perfect cleaning, and a good visualization, the white remains a safe value!